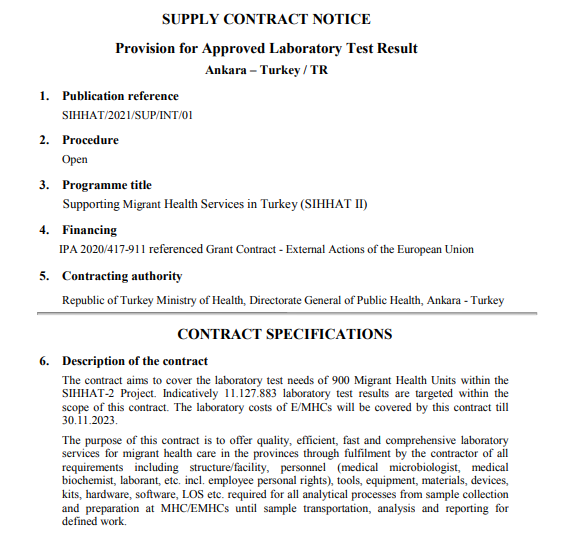 Project: Supporting Migrant Health Services in Turkey (SIHHAT II).
Tender: Provision for Approved Laboratory Test Result
Referance #: SIHHAT/2021/SUP/INT/01
Type: Supply
Belgeler:
Contract Notice.pdf (508.6 KB)
[a14a_declaration_honour_procurement_en.docx|attachment]
(upload://m4rlOgrQvfpeNVhPDFskapm43Or.docx) (36.3 KB)
a1a_glossary_en.docx (77.1 KB)
Annex V.i - Template for Submitting Question(s).doc (43.5 KB)
Annex V.ii - Tax Customs Arrangements for IPA-II.doc (49.5 KB)
Appendix 1_The list of MHCs and EMHCs.xlsx (28.2 KB)
Appendix 2_The list of Tests and Quantities.xlsx (13.4 KB)
Appendix 3 Inspection, Control and Evaluation Form.DOCX (43.3 KB)
Appendix 4 Provisional Acceptance Document.DOC (515.5 KB)
Appendix 5 Penalties.docx (21.1 KB)
c4a_invit_en.docx (190.4 KB)
c4b_itt_en.docx (74.5 KB)
c4c_contract_en.docx (37.0 KB)
c4d_specialconditions_en.docx (48.4 KB)
c4e_annexigc_en.pdf (667.7 KB)
c4f_annexiitechspeciiitechoffer_en.docx (71.2 KB)
c4g_annexivfinoffer_en.docx (33.8 KB)
c4h_perfguarantee_en.docx (31.8 KB)
c4i_prefinanceguarantee_en.docx (31.8 KB)
c4j_admingrid_en.docx (34.7 KB)
c4k_evalgrid_en.docx (29.6 KB)
c4l_tenderform_en.docx (52.0 KB)
c4m_taxcustomsarrangements_en.docx (20.4 KB)
c4n_tenderguarantee_en.docx (28.9 KB)
c4o1_fif_en.pdf (527.8 KB)
c4o2_lefind_en.pdf (625.5 KB)
c4o3_lefcompany_en.pdf (619.8 KB)
c4o4_lefpublic_en.pdf (531.3 KB)
Corrigendum to CN and TD.PDF (128.5 KB)
Clarifications to CN and TD.PDF (506.9 KB)
Award Notice.pdf (113.6 KB)
Kaynak: AB Projesi SIHHAT-2 kapsamında "Sonuç Karşılığı Onaylı Laboratuvar Testi Alımı" ihalesi yayınlanmıştır. / "Provision for Approved Laboratory Test Result" CN and TD are published in the scope of EU Project SIHHAT-2.